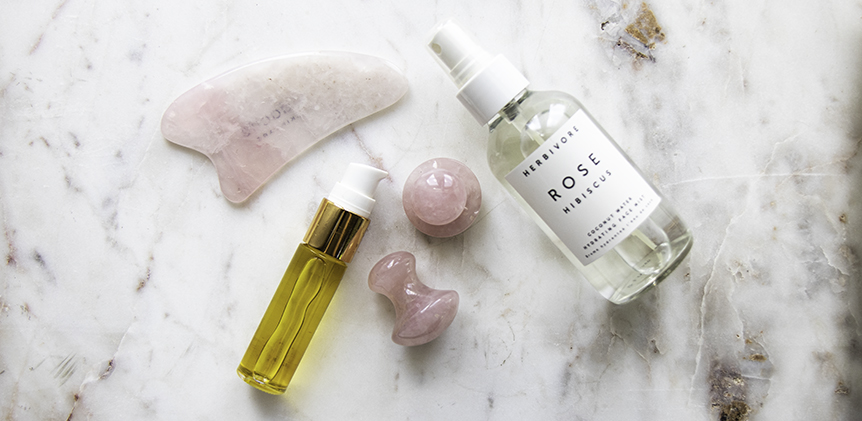 Gua Sha For Rosacea & Glowing Skin
UPDATED December 2023
I think it's safe to say that Gua Sha has recently exploded on the beauty market, so I wanted to share a few thoughts and resources.
First, I want to stress the importance of investing in a high-quality tool bought from a trusted company.
Ever since writing my post on Gua Sha the Glow blog, I've been bombarded with emails from Chinese companies wanting to wholesale me their Gua Sha tools. 
Upon further research into these companies, I could not verify the quality of the stones or find any "real humans" behind the business, people who would talk to me, answer my questions and provide answers to my concerns about sustainability and best practices when it comes to mining crystals.
A high-quality Gua Sha stone is supposed to be made of real quartz or semi-precious stone but you'll likely find that the cheaper tools are made of plastic. We don't want that.
So, with the rise of this trend, I have concerns about quality and sustainability.
Move over, jade rollers; Gua Sha is stealing the spotlight.
Gua Sha, a method of facial massage with crystal tools, has recently sprung up all over Instagram — but it's actually been around for thousands of years.
With origins in the ancient traditions of China and Southeast Asia, Gua Sha is a massage technique designed to relieve tension in the muscles of the face, boost blood circulation and encourage lymphatic drainage.
But, according to holistic estheticians who practice the art of Gua Sha, when done right, it can do so much more.
The Benefits of Gua Sha
Here are some of the many benefits of Gua Sha:
improves circulation
reduces wrinkles
rejuvenates, tones and smoothes the skin.
boosts collagen
combats pigmentation, dark circle and puffy eyes
defines jawlines
Gua sha is literally like massaging your way to healthier, glowier skin.
How to Gua Sha If You Have Rosacea
If you have rosacea (which I'm guessing you do if you're reading this post) you'll want to use gentle pressure and avoid inflamed area. You'll also want to avoid areas where your skin is breaking out.
Since rosacea skin is already compromised thanks to misbehaving cathelicidins and you may also have broken veins (couperose), you may want to check with your holistic facialist before using a Gua Sha tool.
Using a Gua Sha tool on rosacea-prone skin may create extra redness as Gua Sha increases blood flow. Your skin may therefore be more red (especially if you used too much pressure) but you may find that your skin is more luminous the next day. This is certainly what I have found to be the case for me.
If you skin is currently going through a healing crisis you may want to use your hands to massage a soothing oil instead of using a Gua Sha tool.
Although Gua Sha experts such as Britta Plug (see her advice lower in this article) may say you should avoid Gua Sha if you have rosacea, I feel that it's worth experimenting for oneself. No one knows your skin better than you, so trust yourself.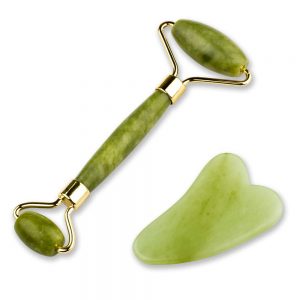 So, what's the difference between a Gua Sha tool and a jade roller?
Experts say that facial Gua Sha is more powerful than a roller because it's much more precise. When using a Gua Sha tool properly, you have more functions and uses depending on the edge you use and the pressure you apply.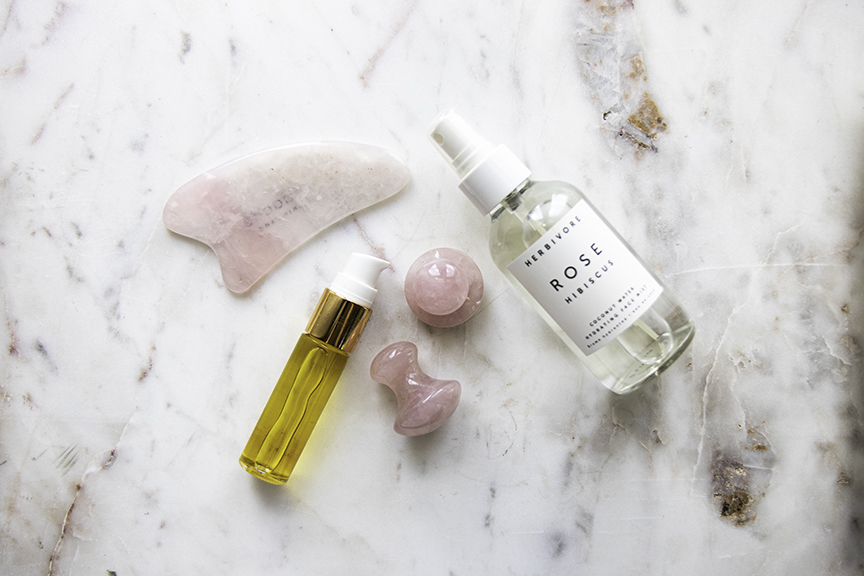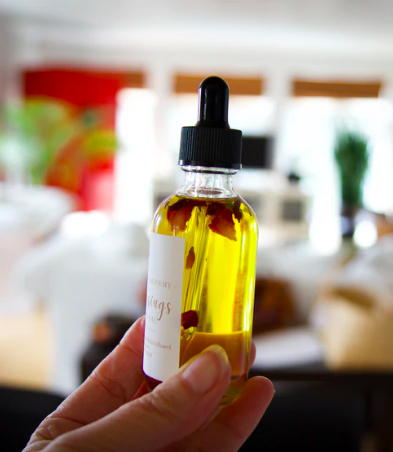 Step 1: Remove Makeup
First, clean skin is a must, so you'll want to remove your makeup.
To remove my makeup, I like to use one of my own concoctions: Skin Blessings.
Skin Blessings is made with pure plant botanical that will soothe and nourish your skin.
This delightful, fast-penetrating oil was formulated for sensitive, rosacea-prone skin.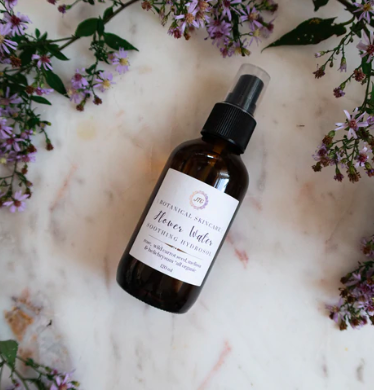 Step 2: Mist Yourself
Generously mist your neck and face with the Soothing Flower Water: Rose & Helichrysum Pure Hydrosol.
The floral water prepares your skin to drink the delicious oil that's coming next.
I have sensitive rosacea-prone skin, so I love an organic rose water that doesn't contain alcohol. I'm a bit of a floral water addict, and, since I'm stocked like an apothecary, I have one of every kind. I created this Soothing Flower Water specifically for rosacea.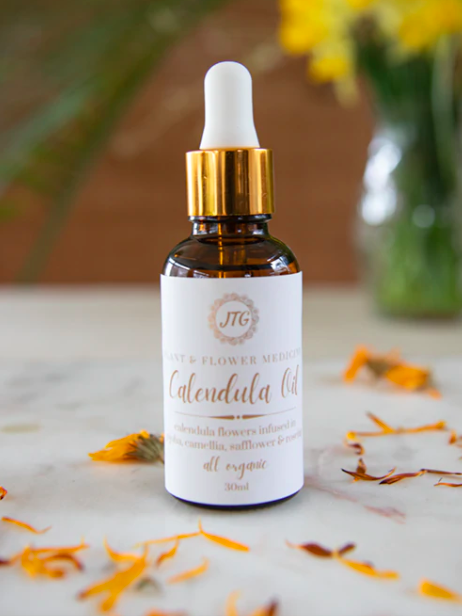 Step 3: Oil Yourself Up
Next, your skin is ready for an oil serum or balm. Be generous with your oil, but don't overdo it. You want your gua sha tool to glide effortlessly but not slide out of control.
My favorite balm for rosacea is the Calm Skin Calendula Balm from from my Calm Skin collection. This balm is soothing, hydrating (it keeps the moisture locked in) and smells absolutely divine.
If you're skin is ultra sensitive, I recommend the Calm Skin Calendule Face Oil and if you are currently struggling with break outs or Demodex mites I recommend the Radiantly Clear Face Oil.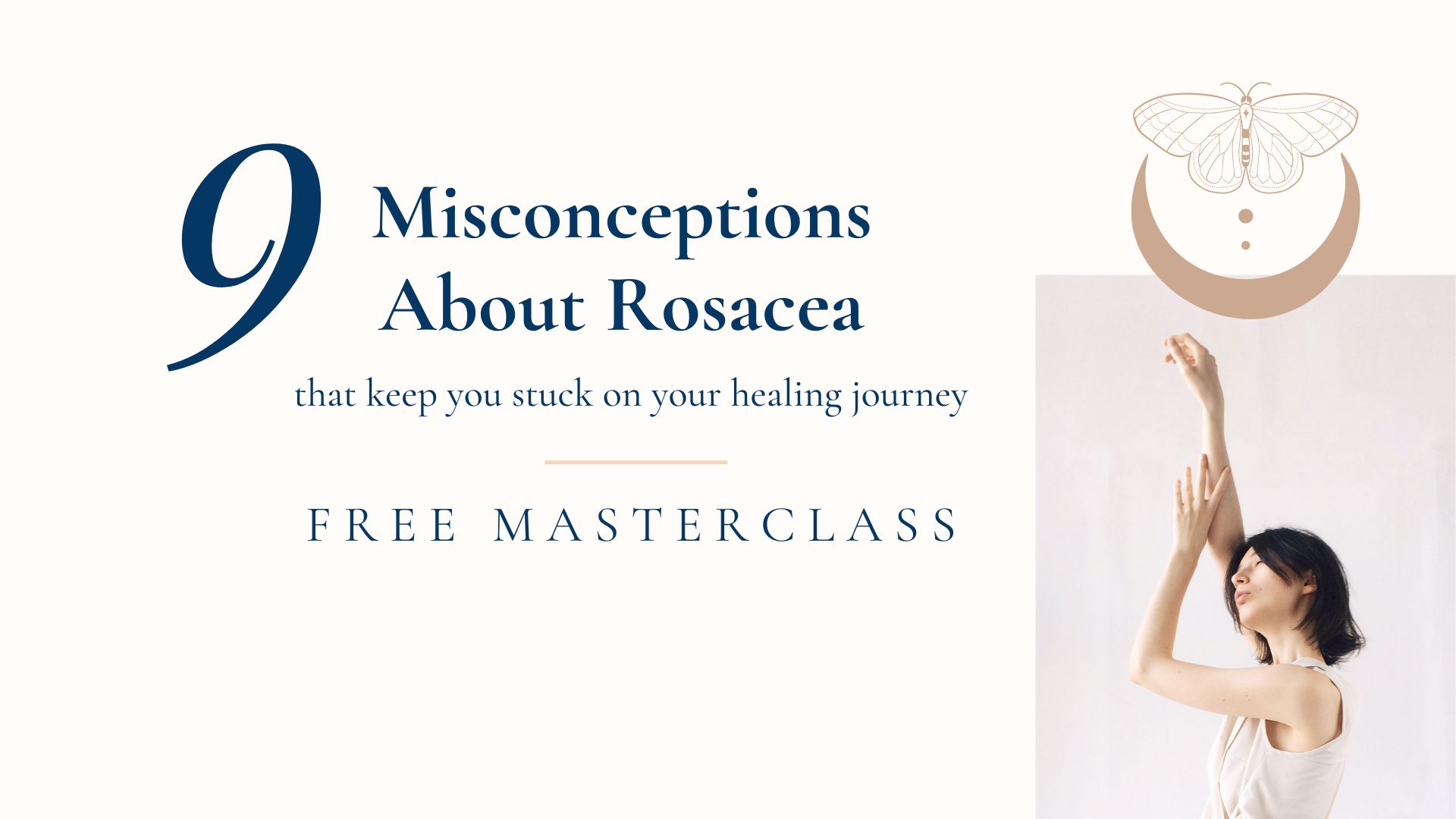 Get FREE access to a 30-minute masterclass where you'll explore 9 misconceptions about rosacea and how to create momentum on your healing journey.
Angling the Gua Sha tool as close to parallel with your skin as possible (you don't want to dig the edge straight in like you're chopping), place the fingers of your free hand close to the tool's edge to provide some resistance, and then gently sweep the tool up and out toward the perimeter of your face.
At the end of each stroke, give the tool a little extra wiggle to help release the tension.
Repeat each stroke at least three times, concentrating on puff-prone areas, like the cheeks and under-eyes. The key is to be gentle, especially where the skin is thinner, like around the eyes.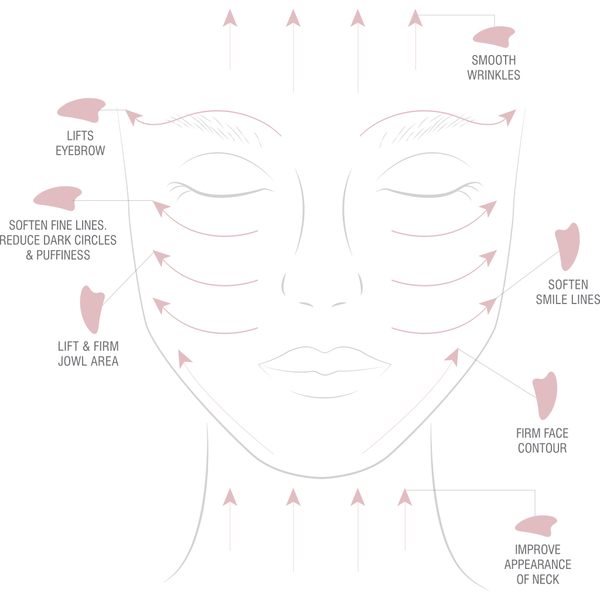 Since my journey to glow is all about healing my rosacea naturally and holistically, I researched to see if anyone was documenting the benefits or side effects of gua sha for rosacea.
As you know, going down the Google rabbit hole means you'll find contradictory information. So, as always, you'll have to use your judgment and listen to your intuition once you've done your own research.
If you find science-backed articles, please share! I will add them to this article.
Here's what I found on Gua Sha and rosacea…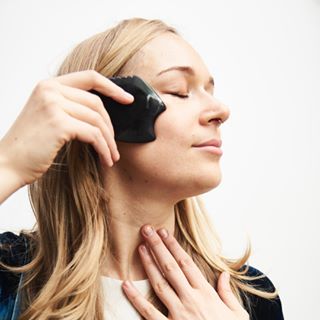 In a recent Vogue article, Britta Plug was quoted saying that she "has been using Gua Sha tools in her holistic facial practice for years, helping clients relieve nearly every skin condition from rosacea to dryness and adult acne." She says, "With this type of treatment, we're moving lymph, which carries away toxins or, in this case, blackheads, and stimulating the chi or prana."
However, she advises against Gua Sha for anyone with inflamed skin (a.k.a. those with acne, rosacea, or sunburn). Likewise, she recommends that sensitive skin types and those prone to breakouts stick to less intense roller massages or seek out a pro to get personalized instructions for how to treat their skin properly with gua sha.
I've also heard Britta say in one of her tutorials on Instagram that it's best to avoid areas with inflamed cystic acne, which is common sense really.
Intuitively, I have a feeling that gua sha would help relieve redness and stuck energy, which, for me, is on my cheeks. However, I would not gua sha on areas where my rosacea was unusually inflamed. Again, it's common sense.
A Chinese Medicine Approach To Gua Sha For Rosacea
One of the more interesting articles I found on Gua Sha and rosacea was written by Diana Hermann, owner of Zizai Dermatology, a Chinese medicine clinic specializing in skin conditions such as acne, rosacea, psoriasis, and eczema.
In her article, Diana Hermann, a licensed acupuncturist and board-certified Chinese Herbal Medicine practitioner, explains that, when the technique of Gua Sha is used on the face, a much lighter pressure is applied than on the body to not raise the "sha" (the redness that appears when you Gua Sha the body vigorously).
The skin on our face is much more delicate and has more capillaries than elsewhere on the body, so there's a greater risk of bruising, which we obviously want to avoid, especially with sensitive, rosacea-prone skin.
When performed correctly, facial Gua Sha is said to have wonderful, lasting benefits for the face and complexion such as reducing redness, inflammation, and blemishes.
Skin Types That Should Steer Clear of Gua Sha
Anyone with dermatitis or easily irritated, hyper-sensitive skin should be careful with Gua Sha, such as those who often break out in rashes or dermatitis-like skin irritation as a result of using new products or from their skin being touched or massaged.
Is Gua Sha Appropriate If You Have Acne, Eczema, Dermatitis Or Psoriasis?
If your skin is currently reactive — if you have dermatitis, eczema, inflamed acne or psoriasis on your face — it is recommended to wait until the skin is brought into a more stable state before trying Gua Sha.
Also, people who have had fillers or Botox should wait at least three months after their procedure to do facial Gua Sha on those areas where they received injections. They can do Gua Sha on other areas, or at least the neck. Releasing the neck is essential for facial work and can even help to create change and improve skin health.
As with any skin care, you'll want to be mindful of doing a little research or at least watch a few videos so that you know what you're doing to avoid damaging or bruising the skin. Also, make sure you're learning from trustworthy experts who've been using gua sha tools effectively and can guide you on how to gua sha safely.
I'm following Britta Plug, the creator of the Lanshin Pro, Sandra Lanshin Chiu and Cecily Braden. Cecily is definitely one to follow as she's an American Spa Finalist, the originator of Gua Sha Facial Fusion, an expert in herbal poultice facial and a Gua Sha tool designer. 
Rosacea articles & resources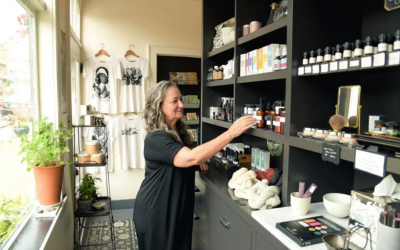 JTG #75 Mud Packing, Detox From Unwanted Toxic Chemicals & Botanical Skincare With Kate Poole *Special announcement about the podcast* Hi, I'm Caroline Dalia Kaliani, Functional Nutrition Practitioner, Herbal Medicine Mama & formulator of a botanical skincare...
read more
The Glowletter
Get the best of Journey To Glow delivered straight to your inbox!
Delicious skin nourishing recipes, the best in clean beauty, upcoming skin detoxes & challenges, tips from holistic skin experts and real women stories to inspire you on your journey to glow!