ORGANIC SKINCARE
balms for sensitive & rosacea-prone skin
balms for sensitive & rosacea-prone skin
The most important thing for me when I shop for any organic skincare is that it be gentle on my rosacea-prone skin. There's nothing worse than having a reaction to a product because our skin doesn't agree with an ingredient!
Below I'm sharing some of my favorite balms that have worked really well for me but as always, you'll have to test these for yourself as your skin may react differently than mine.
Although this is a round-up of balms for rosacea-prone skin, I feel that they are also great for sensitive, thirsty skin, especially if you need extra hydration in cold winter months.
Quick tips to shop smartly:
✩ Ask for samples, it'll save you money in the long run
✩ Talk to your holistic facialist and ask what she recommends for your skin
✩ Always patch test
✩ Read the ingredients, organic and natural doesn't mean "gentle" especially if you have sensitive or rosacea-prone skin
Affiliate disclaimer
Some of the links on this page are affiliate links which means that if you click on them and make a purchase, I may make a (very small) comission. Affiliate links do not increase the price of your purchase.
Affiliate links are one of the ways I pay for my time and create free content for Journey To Glow, so I thank you for your support.
Calm Skin Calendula
After testing SO MANY balms on the market and never finding one that contained ALL the ingredients I wanted to soothe my rosacea-prone (redness, dryness, itchiness…) I decided to create… my own!
The Calendula Balm with Rose EOS is deeply nourishing and calming to inflamed skin. 
I added a few drops of PURE Rose essential oil (even though it is THE MOST EXPENSIVE essential oil on the market!) because Rose is the Queen of Flowers with powerful healing properties.
I chose the ingredients intentionally as I wanted you to experience the ULTIMATE in balms (not all balms are made equal) and treat your skin to the best, most active botanicals.
The carrier oils were infused with Calendula (grown in my garden!) for over 6 months for maximum potency.
Blue Goddess Anti-Redness + Extreme Hydration Balm
The Blue Goddess Anti-Redness + Extreme Hydration Balm comes to the rescue to ease inflammation, reduce redness and quench the most thirsty skin. 
This balm, formulated as a non-occlusive, waterless and waxless concentrate, invites you to pamper your skin and ease your mind thanks to Blue Tansy's calming properties. As you warm the balm into your hands, it will transform into an aromatic facial oil that will penetrate deeply.
Blue tansy acts on a cellular level, where she relieves heat to reduce skin inflammation and redness.
Applied topically, the Blue Goddess works her magic to help clear blemishes, rashes, psoriasis, rosacea, and all forms of acne.
You may call upon Blue Goddess when your skin is in need of soothing, cooling, and quenching.
As an aromatic essential oil, Blue Tansy is known to help uplift low mood, reduce anxiety and enhance deep, rejuvenating sleep.
The Beauty Chef Flora Fix Balm
The innovative mind behind The Beauty Chef, Carla Oates, poured her genius into creating this glorious little skin balm. I wish they made a much bigger size! 
Soothing and rejuvenating, The Beauty Chef's FLORA FIX BALM™ is a bio-fermented super-balm that heals, nourishes and protects dry, rough, moisture-seeking skin.
This skincare staple suits all skin types and helps to balance the skin's natural flora and protect the skin's delicate microbiome. The bio-fermented and bioactivated superfoods in this formula including coconut water, herbs, grasses and legumes, help to nourish and rejuvenate the skin.
With anti-inflammatory and hydrating fatty acids from camellia and rosehip oil, as well as vitamin E, this deeply moisturising balm can be used as a hydrating lip balm, de-puffing eye balm, dry skin moisturiser or soothing salve on dry hands, nails, feet, heels, knees or elbows.
The creation of lactic acid during The Beauty Chef's unique bio-fermentation process – Flora Culture™ – further supercharges this super-balm, boosting its ability to hydrate your skin and promote collagen synthesis.
Josh Rosebrook Vital Balm
Boasting the hydrating benefits of a balm with the sumptuous finish of a cream, this formula is packed with aloe vera, honey, avocado oil, and vitamin E to deliver long-lasting moisture and soft, supple-looking skin. Indian senna seed oil, commonly referred to as botanical hyaluronic acid, joins nutrient-rich ashwagandha, turmeric, and goji berry to nourish deeply. The stuff of skincare lovers' dreams, this potent blend lavishes all skin types—particularly dry, sensitive, and blemish-prone.
Maya Chia The Super Blend
This lush pressed serum has a rich, balmy texture that melts into a dewy fluid upon application, drenching skin in a layer of potent botanicals and a cushion of hydration. The proprietary complex is imbued with vitamin C ester, CoQ10, astaxanthin, and chia to boost your glow and impart the look of firm, bright, even-toned skin that radiates vitality. 
DETOX MODE HERE & THERE BALM
From your lips to your fingertips, this multipurpose balm provides the concentrated affection your skin craves. Hemp seed oil combines with nettle and dandelion extracts to deliver a powerhouse of vitamins A, B, C, and D. Gamma linolenic acid works to soothe and reduce the appearance of redness and agitation.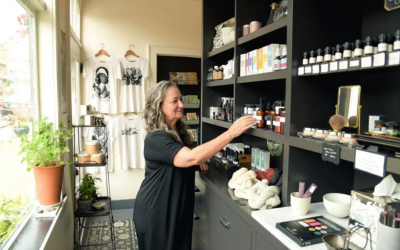 JTG #75 Mud Packing, Detox From Unwanted Toxic Chemicals & Botanical Skincare With Kate Poole *Special announcement about the podcast* Hi, I'm Caroline Dalia Kaliani, Functional Nutrition Practitioner, Herbal Medicine Mama & formulator of a botanical skincare...
The Glowletter
Get the best of Journey To Glow delivered straight to your inbox!
Delicious skin nourishing recipes, the best in clean beauty, upcoming skin detoxes & challenges, tips from holistic skin experts and real women stories to inspire you on your journey to glow!